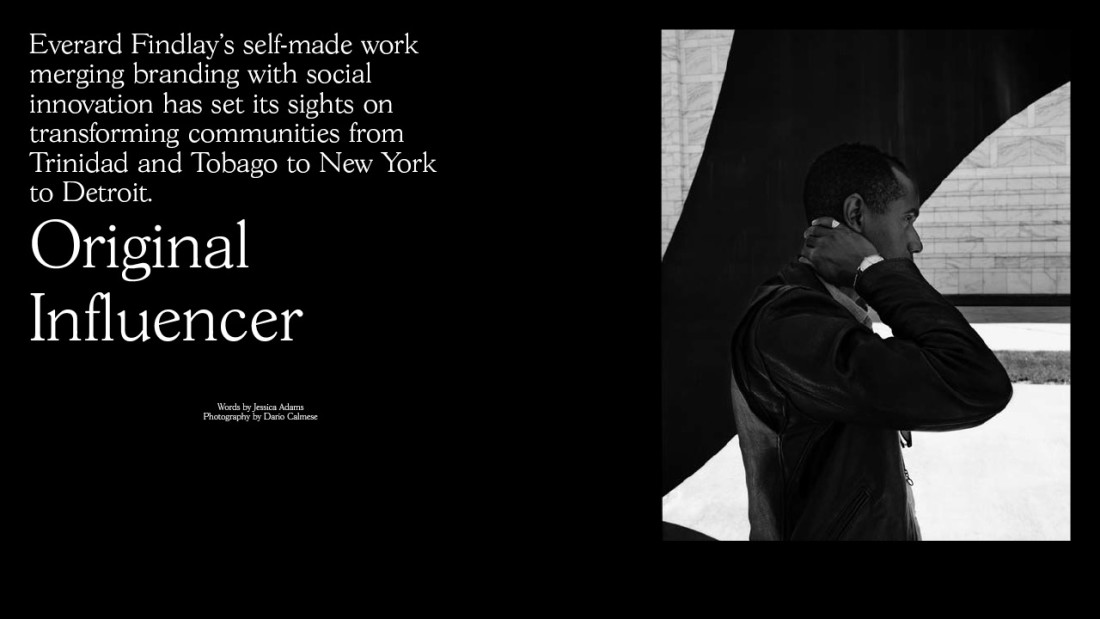 Original Influencer
November, 2018
Everard Findlay's self-made work merging branding with social innovation has set its sights on transforming communities from Trinidad and Tobago to New York to Detroit.
It takes a certain type of person to craft an entirely new profession. Everard Findlay is one of those visionaries—his work merges marketing, branding, social innovation, and the arts to form a holistic entrepreneurial platform that aims to support and bolster local communities.
Soft-spoken and charismatic, Findlay listens to people thoughtfully before he speaks. He forms his responses slowly and intentionally as he finesses each word to best delineate his meaning. Yet there is a glint in his eye—a subtle tic of energy—that hints at more beneath the surface than what he may at first present.
Findlay grew up in Trinidad and Tobago, where he surfed, played soccer, and observed his parents' work and relations with others. "My mother was very tuned in to individual people, always reaching out to help others and intuiting their needs, no matter what they looked like or how well-dressed they might be," Findlay says. "She is very loved in Trinidad."
His father specialized in setting up infrastructure; he was President of the Safety and Security Council for Trinidad and Tobago, working in the oil and natural gas sectors. As a result of their very different but complementary personalities, Findlay muses, "I tend to see the similarities between groups before I see their differences. In any undertaking, I work to balance the micro and macro views and to understand the importance of the individual people along the way as well as the big-picture goals."
His parents were also instrumental in his decision to move to New York City when he was 18 years old. Though they were saddened by his desire to leave, his mother encouraged him to pursue his goals, and his father pushed him to be self-reliant: "You can only move if you promise to find a way yourself," he wagered, and Findlay accepted the challenge—first, with a full academic and soccer scholarship to the University of Mount Olive in North Carolina, to study visual communications.
Findlay arrived dreadlocked, animated, and eager to push his ideas to their natural limits. His class assignments went well beyond the requirements; the large-scale sculptures he built in the midst of campus, which were initially met with some concern from the school's dean, won the everlasting support of his professors. Even then, Findlay was voraciously attracted to multimedia disciplines and innovative applications.
Upon graduating, Findlay returned to New York City, where he worked in communications. He grew fascinated by Edward Bernays' use of strategy—particularly the way he marketed cigarettes to women, which was followed by a spike in female smokers. Findlay wondered, though, if his methodology could be flipped to form more positive outcomes.
Findlay's first independent project took him home to Trinidad and Tobago, where he visited the ward of Laventille, an area that was considered one of the most dangerous in the world by the Geneva Conventions. Though he was warned of the dangers of visiting, Findlay admits that he was curious, and he wanted to see if his theory about the power of strategy was correct. He also wanted to know why Laventille was given such a threatening label, and whether the people were really as bad as the press was making them out to be. "What is the difference between the myth of a place and the actual reality of a place?" he wonders.
Each household had several children, Findlay learned, and the distance from the port to the top of the peak, where most inhabitants lived, was a mile and a half. With more than 6,000 ships entering the port annually, Findlay realized that they could convert the ships' remaining coconut oil—left over from their kitchens—into biofuel to power school buses for the children. He enlisted some childhood friends to help make a film about the project and then met with behavioral scientists who helped him delve deeper into the children's needs and hopes. He also met with a global economic advisor, who immediately pledged his support to Findlay's endeavor.
In the midst of this project, Findlay made the difficult decision to leave behind his New York firm and incorporate his own business. Everard Findlay LLC became the official platform for his diverse array of social impact and branding projects. He now recognizes his work in Laventille as the spur for his entire professional career. "I think this is where all the moving parts came together for me," Findlay reflects. "For me, it wasn't about labeling it at that time. I just was doing what I thought needed to be done."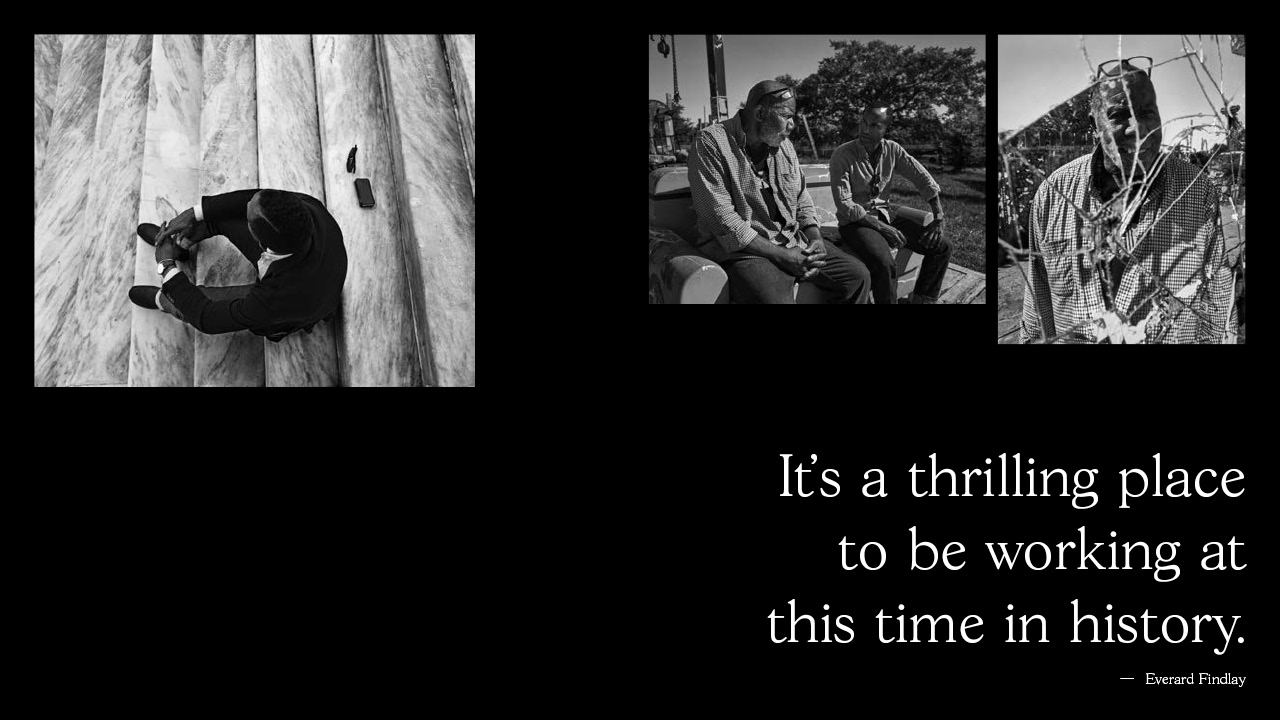 Aside from his own initiatives, Findlay's perspective has become a sought-after addition to many other boards and organizations. His list of involvements at reputable organizations reads like a "greatest hits" list of social and philanthropic outreach: He is a founding trustee at NeueHouse, serves as communications committee chair at GrowNYC, acts as global advisor to the United Nations Development Project's Turning Tables initiative, and is on the boards of trustees at Dartmouth and Columbia—as well as on the board of the National Center for Children in Poverty at Columbia's Mailman School of Public Health.
Findlay's appetite and capacity for this kind of work appears to be insatiable. Recently, his hunger to enact social change has found a new focal point in Detroit. Fellow NCCP board member at Columbia, Julie Fisher-Cummings, had introduced Findlay to her husband, Peter Cummings. The owner of the Fisher Building in Detroit, he was preparing to launch a new development company called The Platform. As Detroit's heralded "largest art object," the Fisher piqued Findlay's interest.
The building lies in the center of Detroit, "so if you look at the city from 360-degree views," Findlay wonders, "how do you figure out developing for all the people in the city? How do you create that narrative throughout development? What is the future of cities?" Clearly, Findlay was on board. Today, along with Cummings' business partner, Dietrich Knoer, Findlay serves as Chief Innovation Officer of The Platform, creating strategies, partnerships, and activations that align with their mission to "do good in Detroit."
The opportunity seems almost hand-tailored for Findlay, who is eager to improve the well-being of Detroiters while paying respect to the city's robust history and many creative communities. His work at The Platform ranges from cultural events to architectural revival and sustainable implementation.
His series "Futurism and Techno" features Juan Atkins—"the godfather of the techno movement," Findlay asserts—along with Submerge Records and renowned techno group Underground Resistance to showcase techno's Detroit heritage, support the night economy, and attract international tourism. When Atkins first began experimenting with music as a high schooler, he read books about astrophysics and began to wonder what space sounded like, leading to electronic music as we know it. Findlay thought, "Who better for him to talk to than physicists?" and paired him up with professors from Dartmouth and Brown to have a conversation about space and sound.
In terms of visual art, Findlay partnered with Olayami Dabls, founder of Detroit's MBAD African Bead Museum, to create an ongoing collaborative performance called Strand wherein participants each choose a single bead from Dabls' collection to add to a long strand—a symbol of unification across race, class, and culture.
As for Detroit's outdoor spaces, they've launched "Fitz Forward," in collaboration with David Alade, Kimberly Dowdell, and Andrew Colom of Century Partners, which aims to rework and revitalize the Fitzgerald neighborhood that surrounds the University of Detroit Mercy. They plan to increase property value by turning vacant lots into meadows and orchards, refurbishing over 100 vacant homes, creating small farm "homesteads" and a neighborhood community center, connecting everything with greenways, providing internet access and giving residents an economic incentive to restore their homes.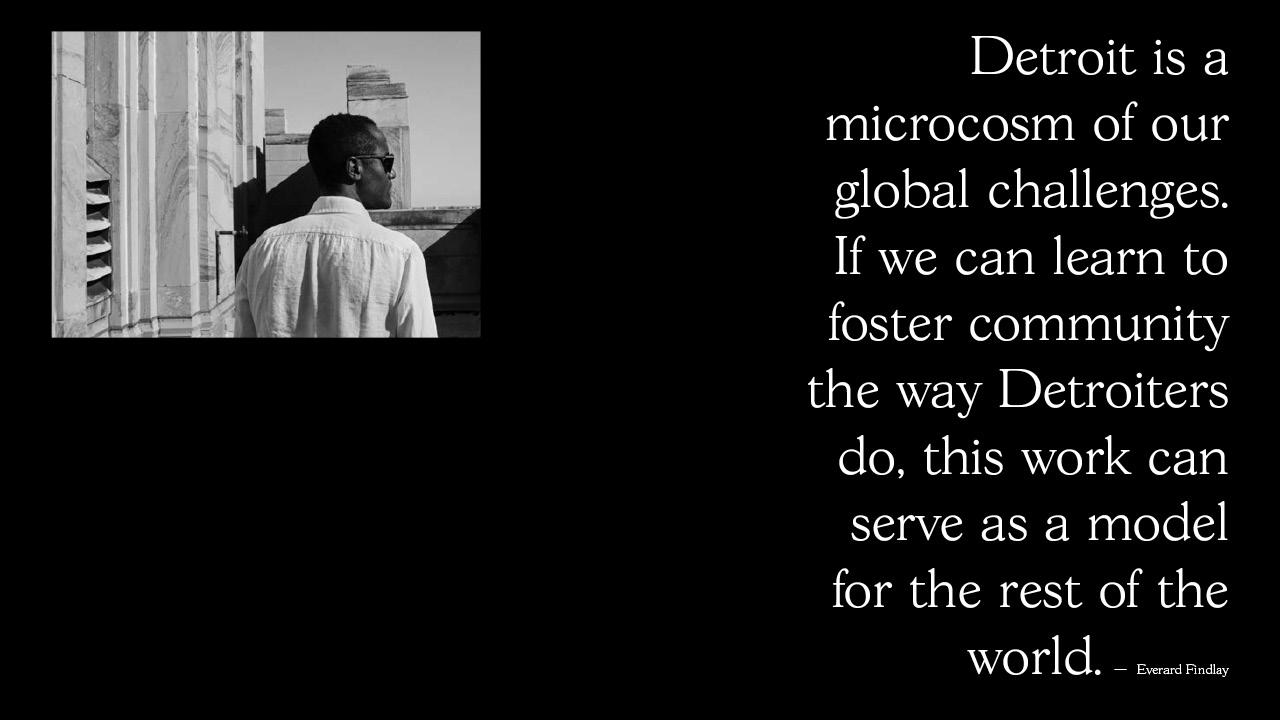 At the heart of all this work, the historic Fisher Building has become a reinvigorated home base for creative community and dialogue. Findlay launched the first installment of the Beacon Projects, a series of events that connects locals from across Detroit's often-underserved neighborhoods, with a temporary halfpipe in the building's lobby. Painted by local artists and open to the public for a few days last year, it served as a tremendous introduction to their community-building initiatives. "Fisher Halfpipe explores the idea of the commons and the way that certain sports, such as skateboarding, transcend barriers of race, class, and culture to draw disparate groups into community," Findlay explains. "An individual sport, in which the skater must contend with the laws of physics and physicality, skating is a true meritocracy, a level playing field on which raw ability is readily apparent."
He then shifted his attention to Detroit's many creative makers with a series of events and campaigns that highlight the vibrant work of locals across the city. The Maker City exhibition showcased creators' portraits with the aim of expanding the use of the word "maker" to include those who work in community activism, business incubation, culinary work, development, government leadership, nonprofit work, and musical and artistic projects.
Here, Findlay met Vincent McWilliams, whose fashion line, Kill the Hate, was created as a reaction to gun violence. Findlay is elated to see this kind of work receive a larger platform within a supportive community of like-minded creative people. "It's a thrilling place to be working at this time in history," he reflects.
In tandem with this collective, Findlay launched the MKR City app, which allows users to create profiles and post updates about their work across the country. The app looks and feels a bit like Instagram, with a news feed showing posts from those you follow, but the approach is completely different. The app aims to connect users in any given city in person by encouraging them to directly contact one another to learn about their work, or purchase their goods. An interactive map pins the location of each participant, which allows users to see real-time activity. As Findlay navigated through the app, he was shocked to see just how much the app had grown throughout Detroit's neighborhoods—a spray of users dotted the map in clustered heaps, illustrating just how many people are actively engaging with the project.
Recently, The Platform has been heralded as Detroit's "developer of the year," per Crain's Detroit Business: "In less than three years," the newspaper noted, "[it] has become one of the most formidable development companies in the city." For Findlay, his work is both a source of pride and an impetus to continue pushing this energy for change. "Detroit is a microcosm of our global challenges," he asserts. "If we can learn to foster community the way Detroiters do, this work can serve as a model for the rest of the world."
Throughout his work, Findlay has harnessed an ability to bring people together to garner positive relationships and incite revolutionary urban progress. For him, influencers and challenged communities speak the same truth. "There's this language of connection, but then there's this missing piece," he says, "and that missing piece is what fascinates me."